Custom Home Builders
in Reno, Nevada
Every custom home construction project requires planning, preparation, and attention to detail. The Reno home builders and staff of Kirby Construction Co. understand that when it comes to building a custom home, your home is the most important and treasured asset so your satisfaction is non-negotiable.
With building a custom home, the devil is in the details. You need a general contractor who knows how to coordinate amongst other tradespeople and a larger team to keep your project on time and on budget.
Kirby Construction consists of top Reno home builders that have skills developed through experience, which is why we've assembled a team of designers, managers, and superintendents with well over 40 years of combined experience in custom home construction.
Experienced Reno Remodeling Contractors
Remodeling or completing an addition to an existing home means accommodating your convenience and remaining courteous. Inviting tradespeople into your home can be a hassle and result in some anxiety, which is why our Reno home builders take extra care to accommodate your needs and integrate them seamlessly into your day-to-day life.
As is the case with all of our construction projects, we begin by understanding your goals and identifying your needs. We then map all of our efforts of building a custom home through design, craftsmanship, and planning and preparation for your project's ultimate success. We never complete a job without your 100% satisfaction.
We Build Your Dreams and Guarantee Your Satisfaction
If you can dream it, we can build it. We are a premier general contractor and
custom home builders in Reno, creating award-winning spaces both large and
small. Our friendly and knowledgeable Reno home builders and staff will act as
your guide during every step of the build process.
Custom Home Construction &
Remodeling Services
Kirby Construction Co. is a design/bid/build general contractor. Our Reno home builders will work with you and your architect, if applicable until the design is complete. We then estimate the cost of building a custom home for the project as designed, and that proposal becomes the scope of work and construction contract.
We employ a network of reliable subcontractors and skilled tradesmen to be apart of our team of Reno home builders. Their many years of experience ensure that your project will be completed to a superior standard of quality. We are selective about the projects we undertake and their timing to ensure quality and timely completion. We collectively work hard to see that you enjoy living in your new dream space as soon as possible!
New Home Construction Services
Existing Home Remodel and Addition Services
HONESTY. INTEGRITY. CRAFTSMANSHIP.
YOUR SATISFACTION IS OUR GOAL.
Unlike Other Custom Home
Builders In Reno
At the end of the day, you need to be comfortable with the general contractor completing your custom home or remodel work. Our Reno home builders, remodeling contractors, and staff are down to earth people and we enjoy what we do. By partnering with us, we hope that you'll understand this as well as our passion and commitment to integrity.
Every project requires our personal investment and you'll see this in the details. This is the Kirby Construction Co. promise that we make to you.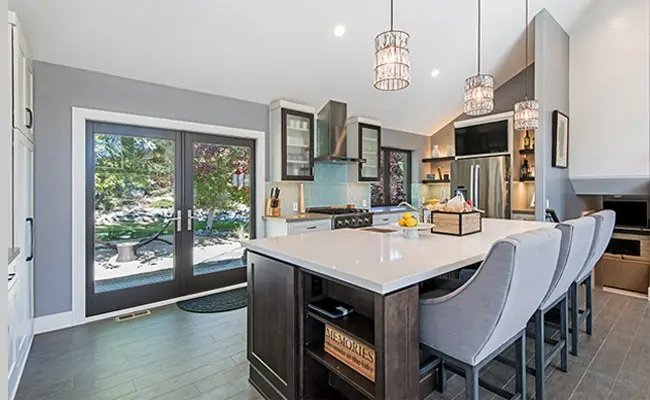 Kirby Construction built a 1130 SF garage/workshop addition to our home, and we were extremely pleased with their work, for the addition looks like it was part of our original home, that's how good a job they did. What separated Kirby Construction from others, who gave us a bid, is that they were very "upfront and honest" in their bid proposal, in that they "clearly spelt out" all of the material and labor that we would obtain from their subs, so we knew with confidence what they would provide. In sum, Kirby Construction is "a winner" when it comes to quality construction – in that they take pride in what they build and we were very pleased with the garage/workshop addition that they built for us.
James L.
We were lucky to find Kirby Construction when we needed a total kitchen remodel. They were patient in answering all questions and concerns upfront. There was total transparency in the estimate. Every aspect of the remodel was written out accurately. The project manager was easy to get ahold of and very fast to respond to phone calls or texts. The work was professionally executed in a timely manner. They went above and beyond to find subcontractors who could match existing features of our 50 year old home. The new crown molding matches seamlessly with the old in the same room. There was excellent follow-up to minor concerns even a year after the project was finished. We enjoy our beautiful, new kitchen every day!
Joanna D.
Lance Kirby with Kirby Construction did the repairs for a 203K Loan that I closed a few months ago. I am a Realtor, and construction is definitely not my forte. Lance was incredibly professional, and really took control. He did what he said he was going to do, and in this business, that means everything. He quoted the repairs at a very fair and competitive price and completed everything on time. The finished product was beautiful and the clients were very pleased. I have since recommended Kirby Construction to other clients as well as friends and family. They have all said great things about Kirby Construction and they are all recommending this great company as well. If you are looking for a GREAT contractor that delivers on promises, Kirby Construction is definitely where to go.
Claire K.
Lance Kirby and Co. took a fixer we bought and made transformed it into our dream house. He stuck to budget and got the job done in-time. Kitchen remodel, three bathrooms, water heater, etc… Couldn't be happier with the whole experience.
Adam K.
Outstanding company! Staff was professional, knowledgable etc . I was very impressed with all aspects of the project and have recommended this company to others.
WILLIAM F.